Yeah, that's what I'm talking about! Fresh green peas and pasta, with some local smoked albacore to boot! Mix that in with a creamy cheese sauce and you have a comforting dinner that is sure to hit the spot of the men in my house. I just better have enough leftovers for my lunch tomorrow.
Just look at those large lush peas! They taste so sweet, its hard to not eat the whole bowl-full, raw! The recipe also calls for leeks, which also came in our box from SLO Veg this week, along with the peas and canned albacore. I even have some good cheese, a Parmesan-Romano, to make the sauce with. I think I will also add in some mozzarella cheese for extra creaminess.
Thursday is usually fish night around here when we get our SLO Veg tote delivered with the SLO Fresh Catch pound of fresh caught ocean fish. However, it's been pretty darn windy around this area lately, and so SLO Veg tells us that due to gale force winds, the local fishermen were not able to get out to sea this week. So we got canned albacore, which is a fantastic treat, I'd say!
http://www.sloveg.com/eathealthy.cfm
Captain Moody's recipe on SLOFreshCatch.com calls for penne pasta, but we are having linguine because I don't gotz no penne! I have resisted the urge to run down to the market and get some penne, so give me some credit. Linguine will be fine. The smoked albacore is the key ingredient, anyway. The sauce looks just like creamed tuna that you put on toast, only fancier. Of course, this will be a not-so-fancy TV dinner, one that we eat from the coffee table while we chat, surf the web and watch TV shows all simulaneously in the living room.
I even made a litte antipasto dish with some of the"Celebrity" tomatoes from SLO Veg. I quartered three littler ones and doused them with some Balsamic vinegar. Then I paired them with some Mediterranean olives and we have an appetizer. I love it when simple comes together so deliciously!
**************************
Here is Captain Moody's pasta recipe on
SLOFreshCatch.com:
http://www.slofreshcatch.com/april-22-24-2014-smoked-albacore-caught-by-captain-moody-and-smoked-albacore-corbonara/
April 22-24 2014 Smoked Albacore Caught by Captain Moody and Smoked Albacore Carbonara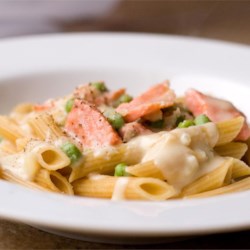 This is a lighter version of pasta carbonara. For people who want the flavor, but not the bacon, smoked abacore is the perfect substitute!"
Serves four
4 tablespoons butter

1 leek finely chopped

1 1/2 tablespoonsall-purpose flour

1 1/2 teaspoons garlic powder

1 1/2 cups skim milk

1/3 cupgrated Romano cheese

1 cup green peas

6.5 ounces smoked albacore, flaked

1 (8 ounce) package penne pasta
Directions
Bring a large pot of lightly salted water to a boil. Add pasta and cook for 8 to 10 minutes or until al dente; drain.
Melt butter in a large skillet over medium heat. Saute leek in butter until tender.
Stir flour and garlic powder into the butter and leek. Gradually stir in milk. Heat to just below boiling point, and then gradually stir in cheese until the sauce is smooth. Stir in peas and cook over low heat for 4 minutes.
Toss in smoked albacore, and cook for 2 more minutes. Serve over pasta.